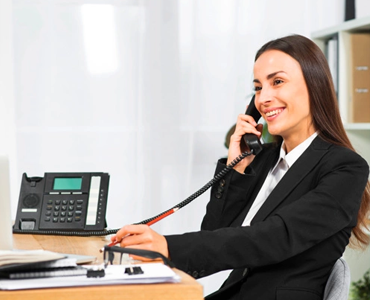 Are you disappointed with your phone services or just looking for the best landline services nearest your residential area? Don't look further! We have got you all covered. Spirenet's landline service is an advanced phone service that works on a fiber-optic network.
Enhance Collaboration using Spirenet Landline (Local/STD)
Some traditional landline features including caller ID, call forwarding, call transfer, call waiting, hunting, return to the last call, ringtones, voicemail services, easy maintenance, and much more. Available for:
Enjoy landline services in Delhi NCR from Spirenet Digital Communications and get a fixed landline fiber internet connection with exclusive offers and attractive customizable plans. We are providing users the freedom to place domestic as well as international calls. Stay in touch with your family and friends while enjoying unlimited regional and local calls.
Solutions we provide to our valued clients
Flexibility to receive and make calls
Better pricing
Exclusive offers and attractive plans
Crystal-clear voice quality
Reliable services
Wide range of features
Freedom to place Local and STD calls
Don't wait longer, speak with our expert professionals and book a free consultation today.