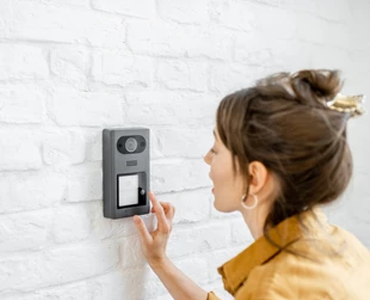 Scalable Platform Offered by Spirenet
We live in the fastest-growing technology world that offers advanced amenities such as Intercom. It works better than anything else. Users can share and communicate with each other whether at home or office. With Spirenet Intercom solutions, you can similarly take voice audio signals while talking over the phone which can be further transmitted over the internet.
Intercom is nothing but a stand-alone voice communications system or a two-way correspondence electronic gadget (VoIP) specially used inside the building (Home or Office) that contains hardware to accept and transmit sound & video transmissions. Whether you are looking for an intercom solution for your home or your office, you have landed at the right place.
A Variety of Intercom Solutions
Fixed landline intercom - You can connect with loved ones, family, friends, and businesses anytime through a fixed landline intercom.
Soft Phone Intercom – Making your life easy and safe for all. Remote wireless talkback for homes, single buildings, multiple sites, large scale complexes, etc. It is fast, reliable, and door communication from smartphones that enables you to connect on the intercom while roaming out.
Solutions we provide to our valued clients
Crystal Clear Voice Quality
Audio cum Video Communication
Hassle-free Installation
Advanced Safety and Security
Comfort & Convenience
Monitor Activities
Reliable and Affordable
We have been in the industry for over a couple of decades. So, what are you waiting for? Give yourself the satisfaction - the boost you deserves with proactive communication. To know more about the services, offers, customizable plans, and products, please feel free to connect with us. We are just a call away from you.